After earning a BA in English from The University of Maryland, College Park, Jason Reynolds moved to Brooklyn, New York, where you can often find him walking the four blocks from the train to his apartment talking to himself. Well, not really talking to himself, but just repeating character names and plot lines he thought of on the train, over and over again, because he's afraid he'll forget it all before he gets home.
https://www.jasonwritesbooks.com/
Other books by Jason Reynolds:
Stamped: Racism, Antiracism, and You (with Ibram X. Kendi)
Long Way Down
The Boy in the Black Suit
When I Was the Greatest
Ghost
Miles Morales: Spider-Man
and many more!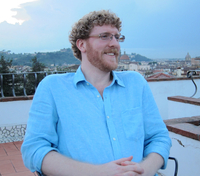 Brendan Kiely received an MFA in creative writing from The City College of New York. His writing has appeared in Fiction, Guernica, The AWP Writer's Chronicle, and other publications. Originally from the Boston area, he now teaches at an independent high school and lives with his wife in Greenwich Village.
Other books by Brendan Kiely:
Tradition
The Last True Love Story
The Gospel of Winter
Jon Krakauer is the author of eight books and has received an Academy Award in Literature from the American Academy of Arts and Letters.
Other books by Jon Krakauer:
Into Thin Air: A Personal Account of the Mt. Everest Disaster
Under the Banner of Heaven: A Story of Violent Faith
Where Men Win Glory: The Odyssey of Pat Tillman
Missoula: Rape and the Justice System in a College Town